The Rolling Stones: Up Close & Personal
Anita Pallenberg, October 24, 1973
Girlfriend of founding Rolling Stone, Brian Jones, infatuation of Mick Jagger, & the Mother of two surviving children of Keith Richards; Marlon & Dandelion (Angela). Richards and Pallenberg lost a son, Tara at the age of 10 months. He was born March 26, 1976. Anita was an actress in "A Degree Of Murder", "Der Rebel", "Barbarella", & "Performance" Rolling Stones songs written about Anita: You Got The Silver.
Anita Pallenberg & Mick Jagger, 1970
Anita Pallenberg & Brian Jones, Tangier, 1967
Shirley (Shepherd) Watts, 1970
A patron of the arts (sculpture & painting), and secretly married to Rolling Stones drummer Charlie Watts on October 14, 1964. She is the mother of Serafina Watts.
Anna Wohlin, 1970
Girlfriend of founding Rolling Stone Brian Jones at the time of his death on July 3, 1969.
Rose Millar and Rolling Stones virtuoso guitarist from 1969 to 1974, Mick Taylor with their daughter Chloe.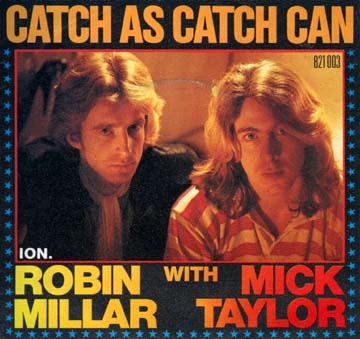 Rose Millar's younger brother, Robin. An accomplished guitarist who recorded this single with Mick Taylor in 1975.
M. Jagger & Chrissie Shrimpton
Jagger's girlfriend until 1966, and said to be a favorite of his parents at the time. She is the sister of photographer David Bailey's favorite model Jean Shrimpton. Jagger left her for Marianne Faithful, and several years ago filed an injunction against her to prevent publishing his private love notes to her. Rolling Stones songs written about Chrissie: Under My Thumb, Stupid Girl, & 19th Nervous Breakdown. Their relationship was stormy at times...
Marianne Faithful, 1964
Significant girlfriend and personal influence of Mick Jagger until May 1970, when Jagger moved to tax exile in France & she stayed in the UK. She was married to John Dunbar during her relationship with Jagger and had a son by Dunbar named Nicholas. She is seen with her son on the BBC Hyde Park broadcast from July 5, 1969. Two books have been written about her life with recent years as fascinating and the early ones. She is a singer who's career was launched with the help of Stones manager Andrew Loog Oldham. She was also an actress in the movies "I'll Never Forget What's His Name" and "Girl On A Motorcycle". Marianne was born on December 29, 1946 to Glynn & Eva Faithful. Rolling Stones songs written with or about Marianne: As Tears Go By, Sister Morphine, Wild Horses, and You Can't Always Get What You Want.
Marsha Hunt, 1968
Mother of Mick Jagger's first child Karis, born November 3, 1970. Star of the late 60's play "Hair". Marsha takes full credit for recommending to Jagger that he have Mick Taylor join the band as Brian Jones' replacement! Rolling Stones songs about or inspired by Marsha: Brown Sugar
Bianca Jagger
"Viva"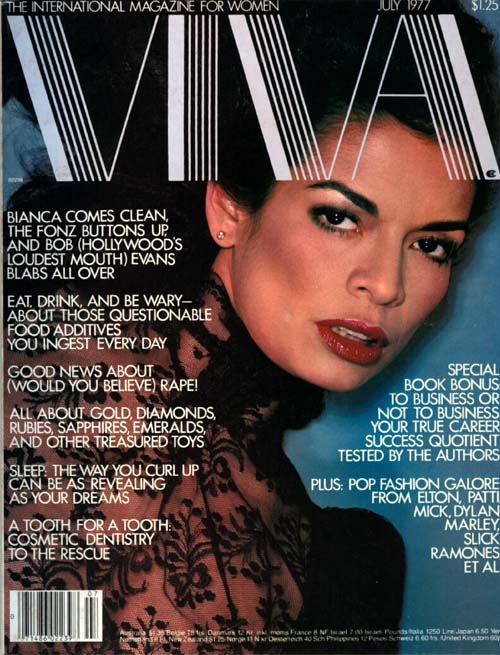 July 1977, pgs 44-47, & 111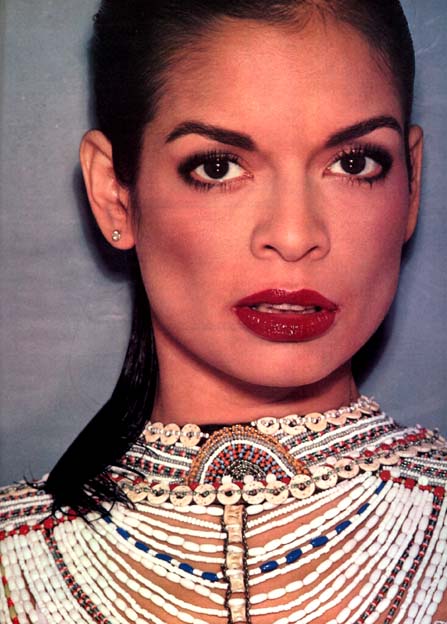 Mick Jagger's first wife. The two were married May 12, 1971 in St. Tropez. Bianca was expecting their daughter Jade at the time of the wedding. They were divorced in 1979. Bianca Perez Moreno de Macias was born May 2, 1945 in Nicaragua. There is no doubt that the famous "Nicaraguan Benefit Concert" for earthquake victims on January 18, 1973 never would have taken place had it not been for her influence. She is quite the political activist these days. I saw her in recent months on CNN debating against the war with Iraq. Rolling Stones songs about or inspired by Bianca: Luxury & Respectable.
Jerry Hall
Mick Jagger's second wife, and mother of four of his children; Elizabeth, James, Georgia and Gabriel. Jerry Hall was born on July 2, 1956 in Mesquite Texas. She divorced Jagger in 1999 after the announcement & DNA proof that he had fathered a child by model Luciana Morad. Jerry has stared as Mrs. Robinson in the theatrical version of The Graduate. Her run started in London as she took over the role from Kathleen Turner. The play has also run in New York, San Francisco, and Los Angeles.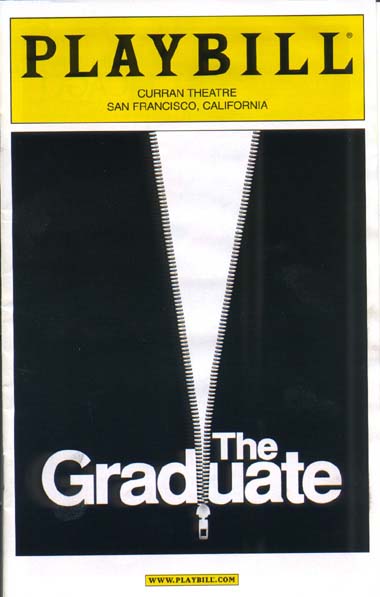 By chance, I found myself standing quite close to Jerry as she waited for her car as she left the evening performance. Stunning really.
"Siren"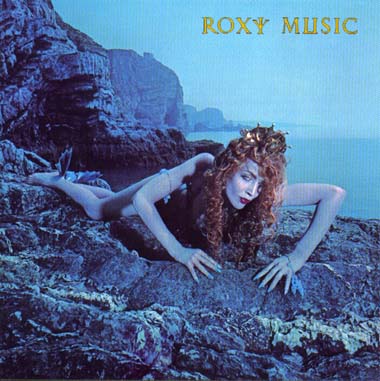 Jerry Hall on the cover of ex-boyfriend Bryan Ferry's Roxy Music.
This was their fifth album released in 1975.
"You"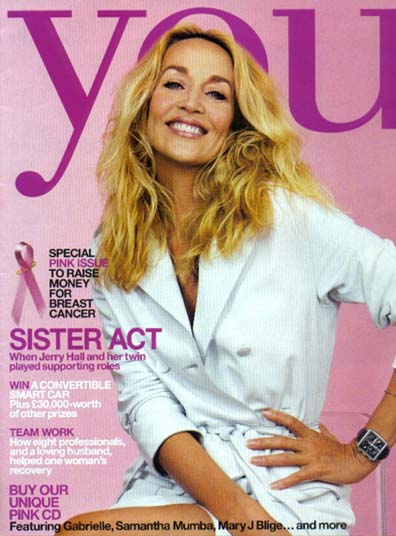 September 8, 2002 Supplement Insert UK.
Article on her support of twin sister Terry's struggle with cancer (Pgs. 26-29).
Luciana Gimenez
Luciana Gimenez Morad was born on November 3, 1969 in Sao Paulo, Brazil. She is the mother of Jagger's youngest child Lucas, and the last straw in Jagger's relationship with Jerry Hall.
"Boa Forma"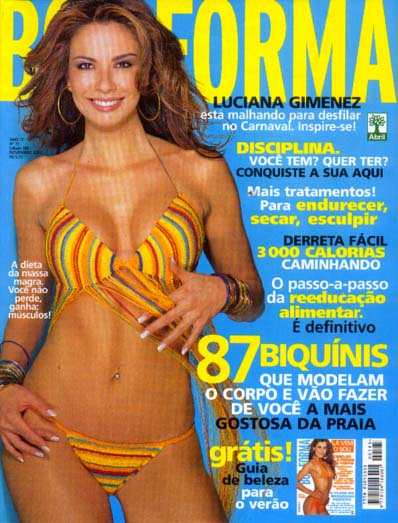 November 2002
Luciana Gimenez - Pgs. 70 - 75.
Luciana is known for her ability to model swimsuits!
Lucas Jagger & Luciana Gimenez
L'Wren Scott
Born, Luann Bambrough she is a former model and now a fashion stylist who lives in Hollywood. She is Mick's current "main person of interest" for the past few years. This shot from the Grammy's January 16, 2005.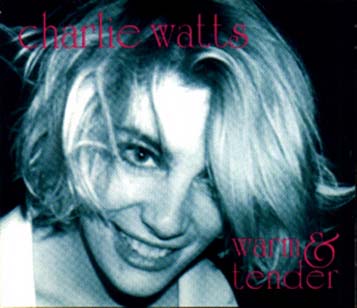 Charlie Watts' daughter Serafina featured on the cover of his 1993 Continuum Records release "Warm & Tender".
"Tatler"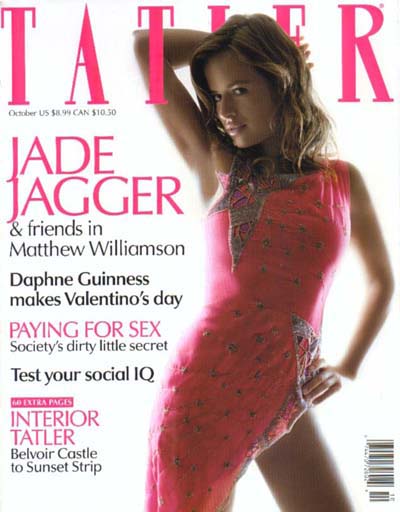 October 2002 Vol. 297, Number 10
Jade Jagger - Daughter of Mick J. & Bianca Rose Perez-Mora (pg. 161)
Born October 21, 1971 in Paris, France
"GQ"
(British)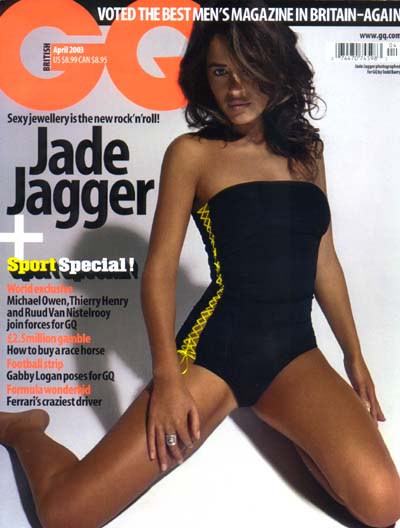 April 2003
Jade Jagger (Pgs. 164 - 171)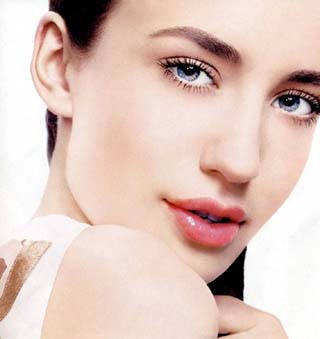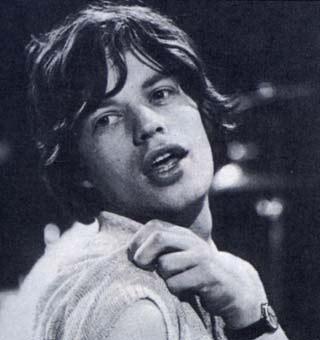 Elizabeth Scarlett Jagger - Daughter of Mick Jagger & Jerry Hall. Now a model for Lancome, Paris with a $1.3M 2 year contract.
"Style"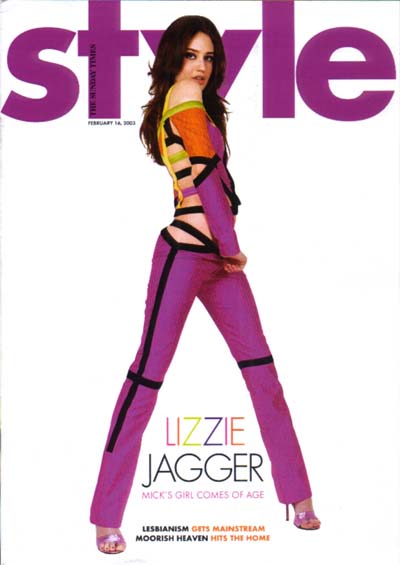 February 16, 2003, supplement insert for The Sunday Times UK.
Elizabeth Jagger Interview (Pgs. 12-15)
Keith Richards' Wife Patti Hansen & Their Children:
Theodora (left) & Alexandra (right)
Patti Hansen was born in Staten Island New York, and was a model for Calvin Klein and Revlon. Patti was "discovered" at a Rolling Stones concert in 1975. She met Richards around 1980 and is also known for keeping the company of Anita Pallenberg. Richards and Hansen were married on December 18, 1983 (Keith's 40th birthday) in Cabo San Lucas at the Finisterra Hotel. The ceremony was filmed by Julien Temple.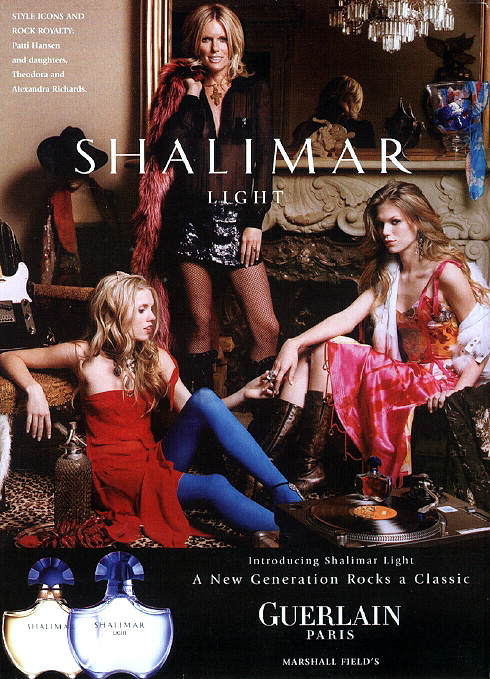 Alexandra Richards and James Jagger (son of Jerry Hall & Mick Jagger)
"Nylon"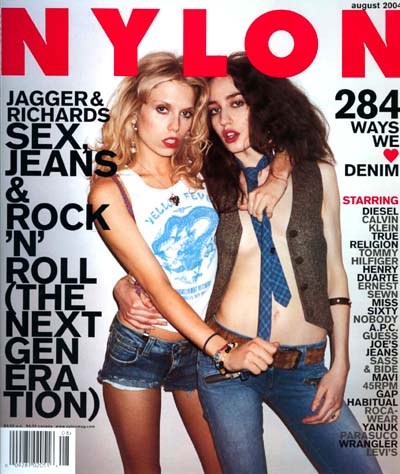 Theodora Richards & Lizzie Jagger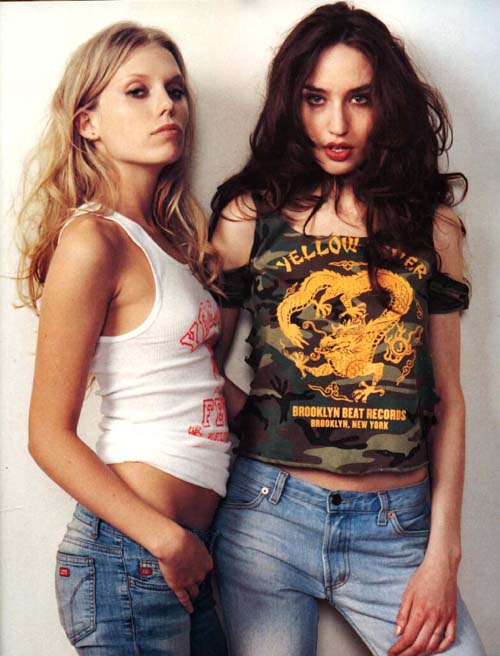 August 2004, pgs. 114-129 (Lots of pictures)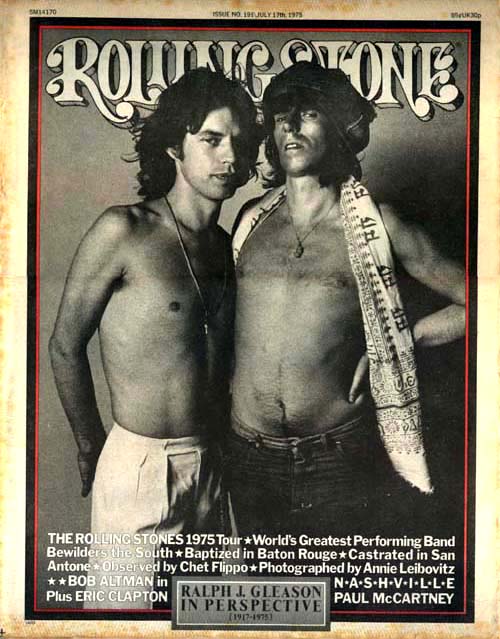 Rolling Stone Magazine, July 17, 1975 Issue #191
Well, they just missed getting the pose right (ahhh, Jagger left/Richards right)!