Gem Stones: The Lost Treasure
Child Of The Moon - Rare Promotional Video
(A Quicktime browser plug-in is recommended.)
Rolling Stones promotional video productions from the 1960's are clearly years ahead of any MTV concept rock videos. The first Stones video was recorded in April 1963 and played to the unreleased Bo Diddley song "Pretty Thing". They were in many respects pioneers of the art form, although this is rarely pointed out or recognized (until now). This video is particularly interesting because it portrays a story rather than just having the band mime the vocal and instrumentals. The Child of The Moon promotional video was directed by Michael Lindsay-Hogg in 1968.
The released version of the song was recorded on March 29, 1968 at sessions held from March 17 to April 3, 1968 at Olympic Studios in London, England. This is an early "Beggars Banquet" session and it marks the final throws Stones psychedelic influence left from the "Their Satanic Majesties Request" period with the two works Jumpin' Jack Flash and Child of the Moon. It was initially only released as the B-side to the Jumpin' Jack Flash single released in May 1968. Neither song was to be included on the next Stones album " Beggars Banquet" perhaps because they did not fit in to the country folk theme that the album was evolving into at the time or more likely because the recordings had already been released as a single months before the December 1968 issue of "Beggars Banquet". Truly a transition period for The Rolling Stones captured in the time capsule of this recording session and this song. It was later released on compilation LP's such as the UK "No Stone Unturned", "More Hot Rocks (big hits & phased cookies)", and "Singles Collection - the London Years". The falsetto singing at the beginning of the song is not Jagger. It's producer Jimmy Miller.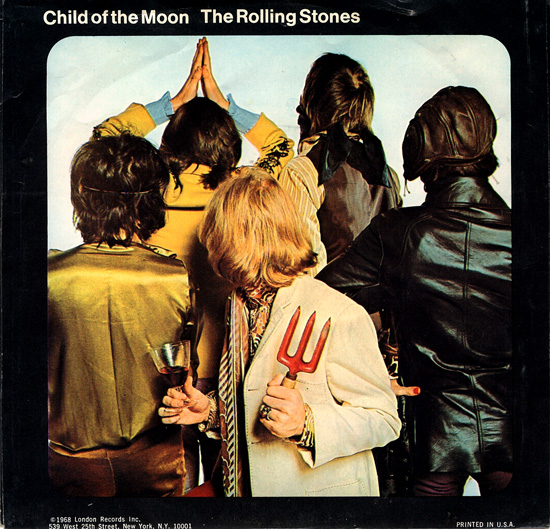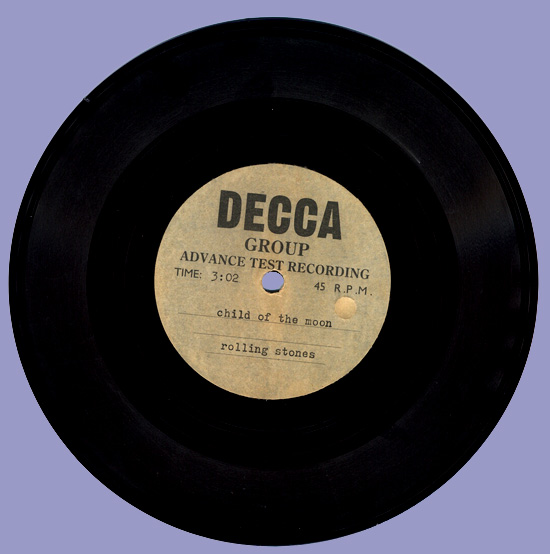 The Original Picture Sleeve Release from the Jumpin' Jack Flash Single and a metal-vinyl lacquer acetate of Child Of The Moon.